Club Night - 17th Jan 2022
Crawford Macnab
17 January 2022
One ladder game was played on 17th Jan 2022 between Paul Girdwood and Nathaniel Forbes Inskip.
A win for Paul Girdwood moves him up to 9th place in the ladder.
See Club Ladder for full results.
Ladder Games
| | White | | | Black | |
| --- | --- | --- | --- | --- | --- |
| 1 | Paul Girdwood | 1524 | 1 - 0 | Nathaniel Forbes Inskip | |
Click here for a list of news stories about this competition.
Friendlies
Two graded friendlies were played with Stuart McKinney holding his nerve to win a rook and pawn ending against Allan McDiarmid. It had looked like the white pawn on d file was going to be strong for white and Stuart naturally focussed on meeting this threat. In the position shown black could have finished more quickly by pushing pawn to b3 where it would soon queen or force loss of material.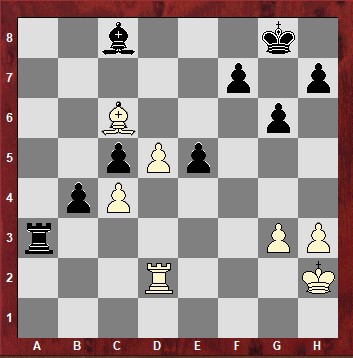 Euan McDiarmid and Charles Gunn-Russell reached a blockaded level position where a draw was agreed.
| | White | | | Black | |
| --- | --- | --- | --- | --- | --- |
| 1 | Allan McDiarmid | 1740 | 0 - 1 | Stuart McKinney | 1455 |
| 2 | Charles Gunn-Russell | 1797 | ½ - ½ | Euan McDiarmid | |